This page in other languages: Deutsch - English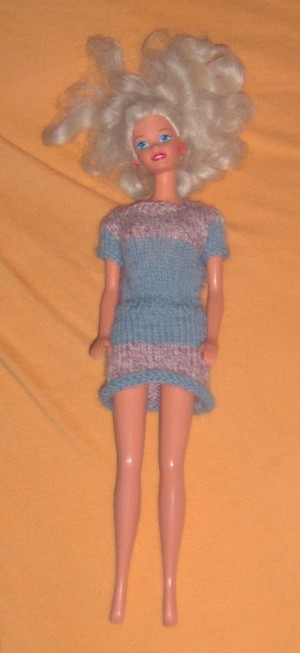 Dieses Teil kam aus Zufall zustande und ist somit ganz einfach gemacht. Es wird fast in einem Stück rund gestrickt.
Strumpfwollreste in zwei unterschiedlichen Farben, Wollstärke 2,5
1 Spiel Stricknadeln Stärke 3
40 Maschen in Farbe 1 anschlagen (10 Maschen pro Nadel)
4 Runden mit Farbe 1 glatt rechts rund stricken
14 Runden mit Farbe 2 glatt rechts rund stricken
8 Runden mit Farbe 1 glatt rechts rund stricken
6 Runden mit Farbe 1 1re-1li rund stricken
16 Runden mit Farbe 1 glat rechts rund stricken
dann zwei Nadeln liegen lassen, also nicht damit weiter arbeiten
über die Maschen der anderen zwei Nadeln 11 Reihen glatt rechts in Farbe 2 stricken
in der 12. Reihe abketten
mit den liegengelassenen Maschen genauso verfahren - 11 Reihen glatt rechts in Farbe 2 Stricken - in der 12. Reihe abketten.
Oben jeweils 5 Maschen rechts und links der beiden Teile zunähen. Dadurch entsteht der Halsausschnitt von 10 Maschen auf jeder Seite.
Für die Ärmel 12 Maschen auf jeder Seite aufnehmen - hier kann man entweder rund stricken oder mit Öffnung unten und dann nähen.
6 Runden glatt rechts stricken und dann abketten.
Dasselbe mit dem Ärmel auf der anderen Seite machen.
Fertig :-)
Ad blocker interference detected!
Wikia is a free-to-use site that makes money from advertising. We have a modified experience for viewers using ad blockers

Wikia is not accessible if you've made further modifications. Remove the custom ad blocker rule(s) and the page will load as expected.